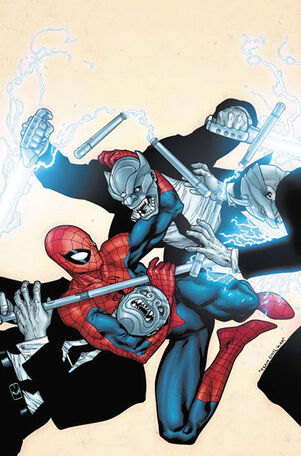 The new age of heroes is what the Eath-78315 universe revolves around.
History
15 years after the original age of heroes ended, new heroes and villains began to appear, thus new wars and events occured, and some older heroes became less active or died. So rookies and newbies dominated the world, starting a new age of heroes.
Denizens(new)
New heroes and villains, some of whom are the offspring of original heroes or villains include, but are not limited to:
Leo
Spidey
Killerweb
Kid Devil
Ramona
Witchweb
Loriea
Dr. Strange
New Hulk
Ragespider
Agent America
Deaths
Many heroes and villains are absent thanks to their demises:
Thing 
Dr. Doom
Norman Osborn
Doc Ock
Dr. Strange
Jean Grey
Professor X
Magneto
Cletus Kassady (Carnage)
Eddie Brock (Venom)
Ad blocker interference detected!
Wikia is a free-to-use site that makes money from advertising. We have a modified experience for viewers using ad blockers

Wikia is not accessible if you've made further modifications. Remove the custom ad blocker rule(s) and the page will load as expected.