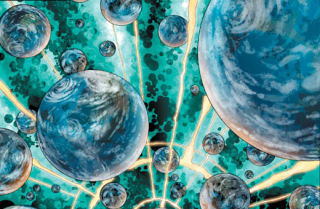 The Masterless Multiverse is the fictional set of universes, including both DC, Marvel, and original universes. Together, these universes comprise everything that exists within the Masterless Multiverse (or Metaverse): the entirety of space, time, matter, energy, and the physical laws and constants that describe them. The various universes within the multiverse are called "parallel universes", "other universes" or "alternate universes."
This does not include all universes I've created, as the Multiverse only includes realities that can, either in theory or in practice, commune with each other.
All Universes are denoted as ME-[Insert Number] 
DC
To Add
God Killer Sword (ME-Prime, ME-2, and/or ME-10)
Lansinarian Morphing Disk (ME-1 [to be a sci-fi-y God Killer Sword], ME-2, ME-4, and/or ME-10)
H.I.V.E. (ME-2, ME-10)
The Atom (Both Palmer and Choi. Choi to be named Lưu Hào Lực. May also have a good or bad version of Rhonda Pineda to be named Ramona Pórtela/Pacheco) (ME-1, ME-2, and/or ME-10)
Masquerade (ME-10?) 
Darkstars(ME-10)
Amir David Kinard/Waverider (ME-2, or ME-10)
The Justice League as God versions of themselves (Superman = Strength/Heroes, Batman = Wisdom, GL = Light/Life, etc)

Probably quasai-Justice Lords but not immoral. The OG Justice League ascend to Godhood and kind of abanon humanity, leaving a new generation to take the reins. 

Unknown Soldier (all of them) (Probably ME-8 in the Nazi Zombies part and elsewhere)
Human Bomb (ME-2, ME-8, and/or ME-10)
Misabel Lefebvre (ME-9)
Nommo Balewa (Probably ME-9)
Amsel Reiniger (No Idea)
Emil LaSalle/Warp (Several, but Native uni to be ME-1, ME-2, ME-8, or ME-10. Also to be renamed)
The Manhunter Corps/Cult (Corps = ME-1, Cult = ME-9)
Lady Aquaman (ME-2 or ME-10)
Lady Ocean Master (also temed with a male Ocean Master) (ME-2 or ME-10)
Heavily modified Maxie Zeus (ME-2) 
Afterthought (To be renamed tp Epithemeus and to be part of a probable villainous duo with Prometheus)
Mark Shaw/Manhunter (ME-9)
Worldkillers (ME-1, ME-2, ME-6, and/or ME-10) 
Masterless Terrific Trio (No idea)
Marvel
Possible quasi-Game of Thrones-y universe with animal guardians (White Wolf, Black Panther, Brown Bear, White Tiger, etc)
To Add
Maybe For Marvel Vigilantes
Concepts 
Masterless Alignment System
Ad blocker interference detected!
Wikia is a free-to-use site that makes money from advertising. We have a modified experience for viewers using ad blockers

Wikia is not accessible if you've made further modifications. Remove the custom ad blocker rule(s) and the page will load as expected.