comic crossroads
You can start a fan article from here, but first read the rules that you can find below.
welcome to comic crossroads !
You've always wanted to create fan content for your favorite universes, characters or other, show to everyone your real talent and discover something new ? Well you're exactly at the right place.
This wiki is for the collective Comic Crossroads multiverse, which features Marvel, DC, Manga, Amalgam, Image, Dark Horse, Vertigo and Mirage Characters plus many more and Original Characters are a fair game as well. Established characters will have altered origins, with some having the same origins. We´re happy to have you as part of our community and happy editing!
what does comic crossroads offer you?
---
March 2016

Character
Otto Octavius (Earth-81616)
by
Photon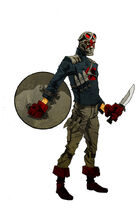 Read More
Reality
Earth-70709
by
Jaggy
Read More
---
poll time
Which Comic Book movie of 2016 are you most anticipating?
statistics
Created: January 21st, 2013
Content:

10,118 articles
26,782 files uploaded
3,312 Heroes
1,848 Villains
568 Neutrals
71,463 total pages
165,548 all-time edits
what are we?
Since 2013, Comic Crossroads allows you to combine each character, universe or object from any of your favourite comics (Marvel, Image, DC, Dark Horse, Amalgam, Mirage, Manga among others) and join them into one simple work and that is not something that can be seen everywhere on the Internet and that is why many people like us, in fact Comic Crossroads is the only wiki that allows you to do that. We have currently 10,118 articles based on content from all possible comics you can imagine, a very active community with great users and we assure you won´t regret making your first edit here.
blog posts
Yeah, this seemed awesome enough to work with.

The Exiles composed of the Champions.

The Main Setting for the Exiles. This reality has compressed itsel…

Read more >
Ad blocker interference detected!
Wikia is a free-to-use site that makes money from advertising. We have a modified experience for viewers using ad blockers

Wikia is not accessible if you've made further modifications. Remove the custom ad blocker rule(s) and the page will load as expected.