Ad blocker interference detected!
Wikia is a free-to-use site that makes money from advertising. We have a modified experience for viewers using ad blockers

Wikia is not accessible if you've made further modifications. Remove the custom ad blocker rule(s) and the page will load as expected.
comic crossroads
You can start a fan article from here, but first read the rules that you can find below.
welcome to comic crossroads !
You've always wanted to create fan content for your favorite universes, characters or other, show to everyone your real talent and discover something new ? Well you're exactly at the right place.
This wiki is for the collective Comic Crossroads multiverse, which features Marvel, DC, Manga, Amalgam, Image, Dark Horse, Vertigo and Mirage Characters plus many more and Original Characters are a fair game as well. Established characters will have altered origins, with some having the same origins. We´re happy to have you as part of our community and happy editing!
what does comic crossroads offer you?
---
March 2016

Character
Otto Octavius (Earth-81616)
by
Photon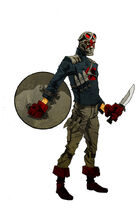 Read More
Reality
Earth-70709
by
Jaggy
Read More
---
poll time
Which Comic Book movie of 2016 are you most anticipating?
statistics
Created: January 21st, 2013
Content:

9,668 articles
24,887 files uploaded
3,239 Heroes
1,829 Villains
557 Neutrals
68,721 total pages
158,090 all-time edits
what are we?
Since 2013, Comic Crossroads allows you to combine each character, universe or object from any of your favourite comics (Marvel, Image, DC, Dark Horse, Amalgam, Mirage, Manga among others) and join them into one simple work and that is not something that can be seen everywhere on the Internet and that is why many people like us, in fact Comic Crossroads is the only wiki that allows you to do that. We have currently 9,668 articles based on content from all possible comics you can imagine, a very active community with great users and we assure you won´t regret making your first edit here.
blog posts
So, after a load of brainstorming about this idea, both with myself in the mirror (that's weird) and with French yesterday I came with this idea abou…

Read more >

Fan Fiction: "Copy and writing someone else's work also known as unoriginality" -My Dad

Fan Fiction: The single handedly worst form of storytelling wh…

Read more >

Star Wars - A long time ago, in a galaxy far, far away.




Star Trek - Space: the final frontier. These are the voyages of the starship Enterprise. Its c…

Read more >


"Nature made me a freak, man made me a weapon, and god made it last too long."

The man that would be called "Logan" and "The Wolverine" was born a dir…

Read more >

See Also: Battleworld (Latverion)

Latveria

Doom's Landing
Doomstadt
Doomgard

Eternal K'un-Lun, Land of the Immortals
Avalon
Arcadia
The Hidden Isle of Agamot…

Read more >