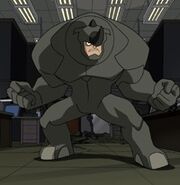 Alexander "Alex" O'Hirn
(a.k.a. the
Rhino
) was a petty crook who worked alongside his partner in crime,
Flint Marko
. He and Flint wanted to get even with
Spider-Man
for being his punching bags and participated in illegal
Oscorp
experiments, turning Alex into a human/rhino hybrid.
History
Trivia
Ad blocker interference detected!
Wikia is a free-to-use site that makes money from advertising. We have a modified experience for viewers using ad blockers

Wikia is not accessible if you've made further modifications. Remove the custom ad blocker rule(s) and the page will load as expected.